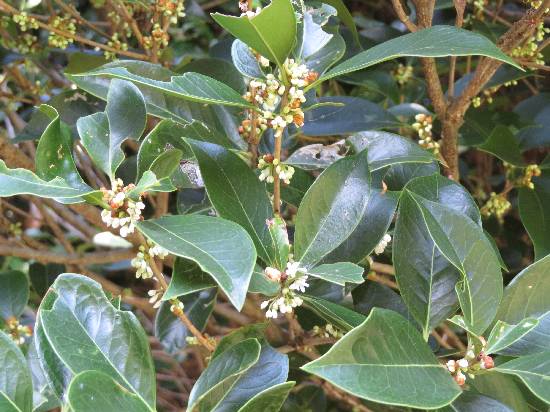 Ginmokusei is an evergreen small tree of the genus Oleaceae of the family Oleaceae.
It is dioecious and has not arrived in Japan.
It blooms small white flowers with a more subdued sweet scent than Osmanthus fragrans.
The leaves have fine serrations on the edges, but there are many individual differences and some branches have few serrations.
Best time to see: Mid-October to early November
In Oizumi Ryokuchi, flowering begins a few days later than the flowering of Osmanthus fragrans every year. Like Osmanthus fragrans, it is a short flower for about a week in full bloom.
As of November 1, most of the buds are white, but it is likely to be in full bloom in about two days.
In Oizumi Ryokuchi, you can see it near the back of the Adventure Land vending machine, near the small mountain facing west of Cycle Doronko Square, and along the main road in the water flow area.
(Photographed on November 1st / Flowering later than usual)