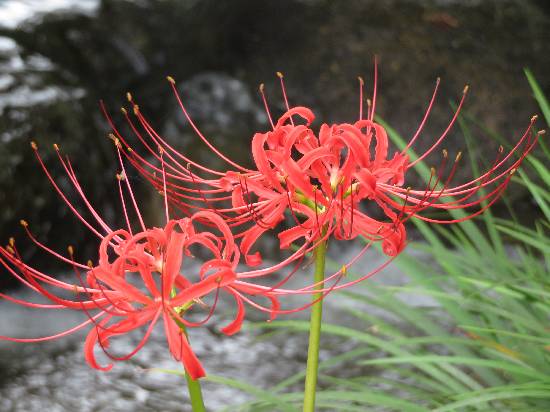 The flowers of cluster amaryllis are in bloom.
Amaryllidaceae is a bulbous plant of the genus Lycoris (genus Lycoris) in the family Amaryllidaceae.
The red flowers that can be seen in the paddy fields around the equinoctial week in autumn are called "cluster amaryllis" and "manjushage", and the white flowers are called "white flower manjusha". It is called "Hana".
All of them are members of the genus Licoris, and there are many varieties, some of which bloom early in July, and there are various horticultural varieties such as yellow, orange, and pink in addition to red and white.
Best time to see: Mid-September to late September
In Oizumi Ryokuchi, cluster amaryllis can be seen near the waterfall of Kakitsubataen, on the north slope, on the eastern side of the central flower bed, and on the western side of the garden.
As of September 13, there is red near the waterfall of Kakitsubataen. White flowers are beginning to bloom on the slope along the eastern garden road of the central flower bed. From now on, it will bloom one after another toward the equinoctial week.
Photo: Photo taken on the 13th / Near Kakitsubataen Waterfall
Photo: Photo taken on the 13th / Slope along the garden road on the east side of the central flower bed (toilet No. 13 facing west)
Photo: Photo taken on the 13th / Slope along the garden road on the east side of the central flower bed (toilet No. 13 facing west)