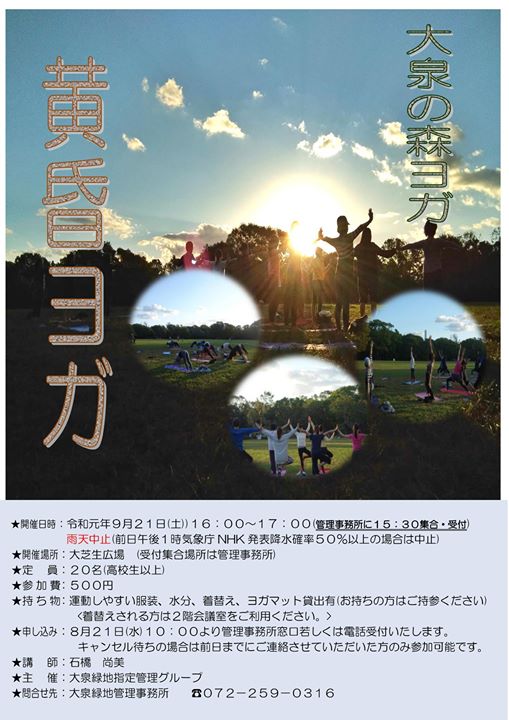 Oizumi Forest Yoga-Twilight Yoga-
It seems that the heat that has been going on for a long time after the Obon Festival will be settled.
Forest yoga will be held outdoors again from September when the heat calms down ♪
Why do not you practice yoga at twilight while feeling the scent of the turf, the surrounding trees, and the blueness of the sky?
For the twilight yoga held in September, we will accept a management office window or telephone from 10:00 on August 21 (Wednesday) ☆
Please apply ♪
ー ー ー ー ー ー ー ー ー ー ー ー ー ー ー ー ー ー ー –Date and time: Saturday, September 21, 2019, 16: 00-17: 00 * 15: 30 at the management office Separation / Reception
◆ Place: Large lawn open space (Reception meeting place is the administration office)
◆ Capacity: 20 (high school students and above)
◆ Participation fee: 500 yen
◆ Items to bring: Easy-to-exercise clothes, moisture, change of clothes, yoga mat rental available (please bring your own if you have one)
* If you are changing clothes, please use the 2nd floor conference room.
◆ Application: From August 1st (Wednesday) at 10:00, we will accept the administrative office or telephone.
* If you are waiting for cancellation, only those who contact you by the previous day can participate.
◆ Lecturer: Naomi Ishibashi
◆ Organizer: Oizumi Green Area Designated Management Group
◆ Reference: Oizumi Green Area Management Office TEL 072-259-0316
#Oizumi Green
#Mori yoga