Botanical name: Ginkgo acacia (also known as mimosa)
Best time to see: From late February to late March
Acacia flowers are blooming.
Acacia is an evergreen small tree belonging to the genus Acacia of the family Fabaceae. It is native to Australia and has clusters of yellow flowers. The bipinnately compound leaves, 4-8 cm long, are spirally attached to the branches, and the whole tree looks pale.
It is called by the name of another name "Mimosa", but there are many other plants that use the name of "Mimosa", such as Acacia Acacia with slightly longer leaves and Pearl Acacia with round leaves.
In Italy, March 8th is called "Mimosa Day", and it is customary for men to give mimosas to women.
At Oizumi Ryokuchi, it is planted in Komorebi Garden (Ippon).
Photo▶ Taken on March 1 / Komorebi Garden
It started blooming on March 2nd.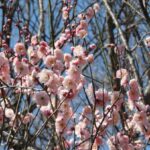 ▶ Information on plums, daffodils, etc. will continue to Please refer to the.