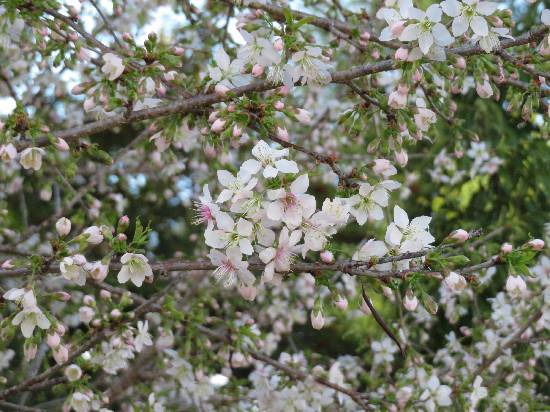 Botanical name: Himalayan cherry
Best time to see: From late November to early December
Himalayan cherry blossoms are blooming.
Himalayan cherry is a small to tall deciduous tree belonging to the Rosaceae family.
It is a cherry tree that blooms in the cold season from November to December. The flower color varies in shade depending on the individual, and in Oizumi Ryokuchi you can see one pale pink and one slightly darker pink.
Damaged by Typhoon No. 21 that occurred in 2018, the dark pink individual looks a little lonely, but the individual that blooms pale flowers blooms a lot every year, and wild birds such as white-eyes come to suck nectar. I see it coming.
It has a short flowering period of one week to ten days.
In Oizumi Ryokuchi, you can see it on the east side of Toizumi Pond.
Photo▶ Taken on December 1st at the best time / East side of Toizumi Pond
▶ Information on sasanqua, emperor dahlia, autumn foliage spots, etc. please look at.