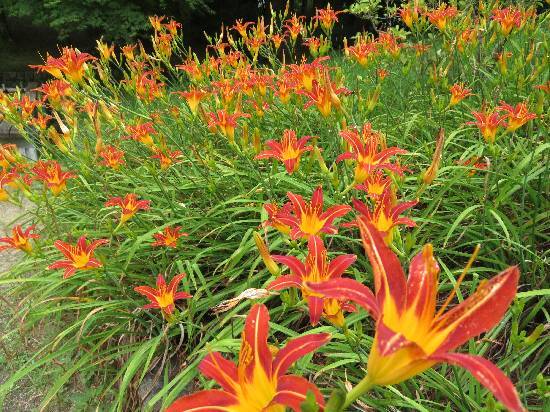 Plant name: Hemerocallis Best time to see: From early July to mid-July
Hemerocallis flowers are in bloom.
Hemerocalis is a perennial of the daylily family Daylily (genus Daylily). There are many varieties native to eastern Asia, and cultivars that have been bred in Europe, such as daylilies and daylilies native to Japan and China, are generally called "hemerocharis".
Hemerocallis has another name of "daily" because it has flowers for only one day, but it blooms new flowers one after another. The flowering period is from May to October, but the time of flowering differs depending on the variety.
In Oizumi Ryokuchi, yellow hemerocharis blooms from June to July in Fureai Garden and Hanazumi Garden, and red hemerocharis can be seen in Kakitsubata Garden in July.
As of July 8, the red Hemerocallis of Kakitsubataen is in full bloom.
▶ Continue to provide information on Trumpet vine, Albizia japonica, Hass, etc. please look at.