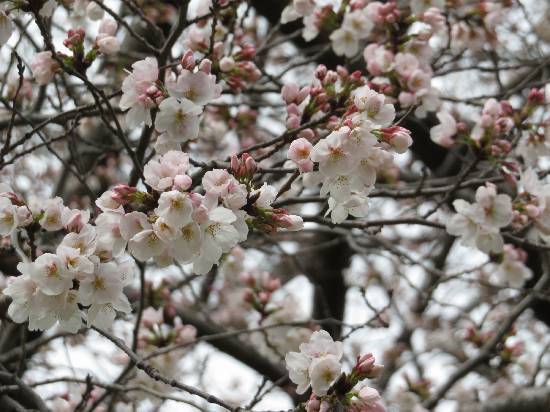 Plant name: Yoshino cherry tree Best time to see: From late March to early April
Somei Yoshino cherry blossoms are in bloom.
Yoshino cherry tree is a deciduous tree of the genus Cerasus in the family Rosaceae. It is a hybrid of Prunus speciosa and Edohigan and is cultivated for ornamental purposes.
It is said that it started in the Edo period when a tree-planting craftsman in Somei Village sold it under the name of Yoshino Sakura (it is different from Yamazakura in Yoshino, Nara Prefecture).
All Yoshino cherry trees found in various parts of Japan carry the same gene because they are clones that have been increased in production by cuttings and grafting by human hands.
In Oizumi Ryokuchi, it is often seen around Sakura Square, Narabigaoka, Twin Mountains, Adventure Land, and Ball Game Square, and can be seen in various places in the park.
As of April 4, it has passed the full bloom. Early ones are starting to drop petals. The appearance of the petals falling on the wind is beautiful.
<For customers who enjoy cherry blossom viewing>
The cherry blossoms are particularly dense in the Sakura Square every year, so please refrain from laying a sheet and viewing cherry blossoms or eating and drinking to prevent the spread of infection.
In addition, cherry-blossom viewing accompanied by eating and drinking in "areas other than Sakura Square" increases the risk of infection.
・ Same table (same sheet) within 4 people ・ Eating and drinking within about 2 hours ・ Thorough mask dinner, etc.
Please take thorough infection control measures.
▶ Continue to information on tulips, safflower laurel, satozakura, and safflower peach. Please refer to the.